Agrovision National Expo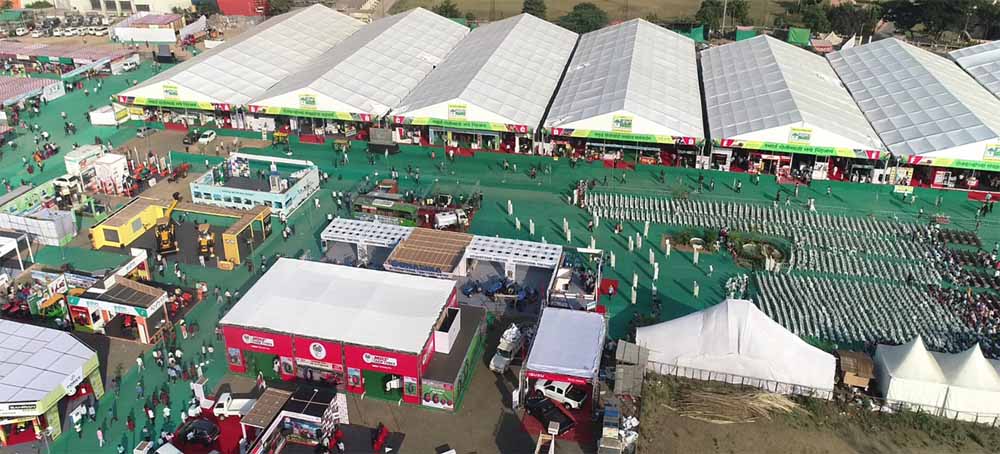 The Grand National Agri Expo was spread over 25,000 sq. mtr. The expo was visited by lakhs of farmers from Maharashtra, Chhattisgarh, Madhya Pradesh, Punjab, Assam, Arunachal Pradesh, Rajasthan and from various other states. Over 350 medium and small enterprises and well-known companies from the agri field displayed their products and services in the National Expo of Agrovision. Grass root level innovators were an added attraction for the visiting farmers.

The participants displayed their research, innovative techniques, products, services, drone technologies, Seedless custard apple, advanced solar fencing, stalls of bamboo products, Spraying kit for spreading chemicals, Advanced Color Sortex Machine, Innovative Agri Machineries, IFFCO Nano Nitrogen, IFFCO Nano Zinc, IFFCO Nano Copper, smart dairy technologies equipment, Vertical Farming were the points of attraction. Agrovision saw participation from KVKs, KVIC, NSIC & MSME, Nurseries & Organic Farming, Reliance – Netshed, Mulching, Polyhouses, Rawmatt – Live model on Renewable Energy covering, Solar, Wind, Biogas, Biomass, Biofuel Bus, Electric Vehicle Charging, Street Lighting etc were the key highlights.

Some of the States who displayed their initiatives in agriculture were Assam, Andhra Pradesh, and Maharashtra. The various Ministries & their PSUs were part of this mega event like CWC, TFRI, FSI, CIFNET, NFDB, Coir Board, Coconut Development Board, Coffee Board, Spices Board, MOA&FW Extension, NDDB, DBT, PPV&FRA, NSCL, PCRA etc. The Pavilion of Animal Husbandry showcased live demos of various breeds of Animals, species of cow, bullocks, and goats attracted the farmers. Stalls of ladies self-help groups making tasty food items were flooded with the visitors.

Several machines and equipment required for farming activity, different technologies like Bio-Technology, Micro-Irrigation, Shade net, Cold Storage, Earthmover, Tractors, Power Tiller, Automatic Equipment, Solar Equipment, Growth Regulators, and Agri Publications etc. were displayed and was center of attraction amongst many things at the Exhibition.
Response to the exhibition was phenomenal as lakhs of farmers visited the expo particularly from Vidarbha, Chhattisgarh, MP, Telangana, Andhra Pradesh, Assam, Rajasthan, UP, Arunachal Pradesh and also from far away states. The farmers got astounding exposure by witnessing new products, services, technologies, irrigation systems, input, output, equipment etc.

Highlights of Expo
Spread over a sprawling 25,000 sq.mtrs.
Over 350 organisations participated
Lakhs of farmers visited the expo
Farmer's advisory booths
---